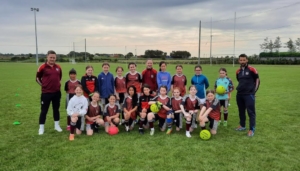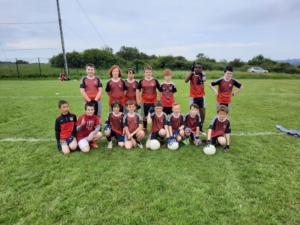 A huge weekend just gone for FGEO, as our u12 boys began their season against Corofin on Sunday 20th June in Crestwood – and for the first time since Fr. Griffin's and Éire Óg amalgamated in 2008, we were incredibly proud to field an u12 girl's team on Saturday 19th June as they took on Claregalway in Knockdoemore!
Both our boys and girls teams did their club proud, and this weekend represented a massive step in our development as a club – at FGEO our aim is to be "A Club for All, a Club for the Community", and to us it is equally as important to see our girls (and ladies) teams take to the pitch in competitive games.
We are delighted to see so many girls coming through our Cúl Cubs and Peil Pal Academy, and with the recent start to our 'Gaelic 4 Mothers & Others' initiative, we hope it won't be long before FGEO are fielding boy's, girl's, men's and women's teams at all grades and age groups!
Exciting times ahead for us all – and a special thanks to our superb team of dedicated coaches for their tireless work, to our local schools for their support, and to our parents and players themselves for participating and helping our club to grow.
By lukemurray
Mon 21st Jun