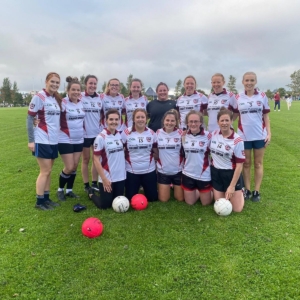 Another very exciting development in our growing club – we have recently begun our own 'Gaelic 4 Mothers and Others' group, who meet every Wednesday at 7pm at the Ballinfoile Castlegar Neighbourhood Centre BCNC (INDOORS) on the Headford Road!
The G4M&O initiative sees women playing Ladies Gaelic Football in a fun and social environment. It is a non-competitive recreational form of Ladies Gaelic Football, welcoming women who currently do not play any form of competitive club football and would like to play.
The Gaelic4Mothers&Others initiative is an innovative way to introduce mothers and other women to playing Ladies Gaelic Football. Mothers often drop their kids to training and call back to collect them, but the Ladies Gaelic Football Association wants to change that.
Gaelic4Mothers&Others provides an opportunity for women to get their recommended weekly exercise in a fun way while meeting other mothers in the area.
All G4M&O training sessions are fun orientated with the focus on learning the skills of our game, developing social skills and providing an opportunity for women to be physically active.
We would love for you all to join us in Crestwood for this great new outlet for our club – for enquiries contact Nicola on 0863145598!