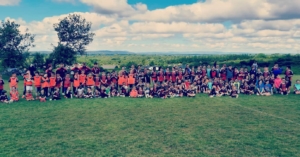 The Peil Pal Academy is the foundation of the juvenile section of your club.  The main aim of Peil Pal is to introduce children aged 6 – 13 years (Born 2008 – 2015) of age to Gaelic Football in a fun, safe and relaxed environment. The ethos of the Peil Pal Academy is 'to learn skills while having fun'.
Coordinator Barry Creaven, ably assisted by a (growing) team of coaches are ready to go every Saturday morning at Crestwood. All Coaches are Garda vetted and have completed the relavant Safeguarding and GAA Foundation Level courses.  All parents are encouraged to get involved in helping out, no experience is necessary but a series of training courses will be provided. Just let us know if you are interested, we would love to have you on board.
If you want your child to participate in the Peil Pal Academy simply come along any Saturday morning to Crestwood.  Please contact Benny Lawless for more details 0879438575 or email bennylawless@gmail.com.
Mouthguards are required, comfortable clothing and a bottle of water.