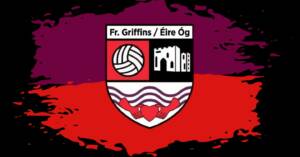 2023 – Current training times for adult Junior and Junior B squads:
Monday and Wednesday evenings at Crestwood H91P6F2.
Please contact Paul on 0877646200 for the latest updated schedule.
NEWCOMERS ALWAYS WELCOME
In recent years our club has been going through a huge resurgence. The club has had its most successful period in years, having won back to back promotions in the league, and in 2018 winning the West Board and County Championships at Junior A level.
In 2021, we added the Junior C County Championship title to our honours (team below). We now have two fully fledged adult teams where the vast majority of players are those who came up through the ranks of underage of our club. Our first team plays in the premier Junior championship grade and in the Intermediate league. Our second adult team will compete in the Junior B grade for 2023, and in all we have more than fifty adult players.
Our aim at Fr. Griffin's Éire Óg is to establish a thriving Gaelic football club in Galway City with teams from Juvenile to Senior grade for both boys and girls, men and ladies. FGEO caters for children and adults residing in the following areas: Claddagh, City Centre, College Road, Bohermore, Riverside, Castlelawn, Ballinfoyle, Tirellan, Bóthar an Choiste, Coolough, Menlo, Kiloughter, Ballindooley, Terryland and Castlegar.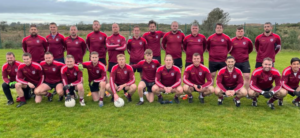 Being a city club, we are also very open and accustomed to new members joining us, particularly those who have just moved to Galway. Our adult teams currently have players from Donegal, Fermanagh, Antrim, Leitrim, Mayo, Cork and even a few islanders from Inishbofin and Clare Island!
Have you recently moved to Galway city? Looking for a new club? Then you are more than welcome to join us at any time at Crestwood for a session. Close to the Menlo Park Hotel, Crestwood is within a 15min walk from Eyre Square and easily accessible from all areas. Get in touch with us today if you are new to the area and looking to join a welcoming and competitive local club.