Our aim at Fr. Griffin's Éire Óg is to establish a thriving Gaelic football club in Galway City with teams from Juvenile to Senior grade for both boys and girls, men and ladies. A Club for All, a Club for the Community. We are fully focused on our short, medium and long term targets to ensure our plans are implemented to the highest of standards. We are in the process of developing a long term vision, a 5 year and 10 year Strategic Plan in conjunction with the GAA and the Galway City Council.
FGEO caters for children and adults residing in the following areas: Claddagh, City Centre, College Road, Bohermore, Riverside, Castlelawn, Ballinfoyle, Tirellan, Bóthar an Choiste, Coolough, Menlo, Kiloughter, Ballindooley, Terryland and Castlegar.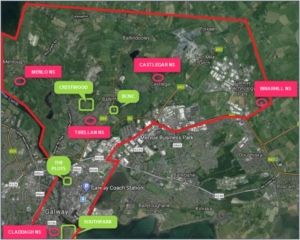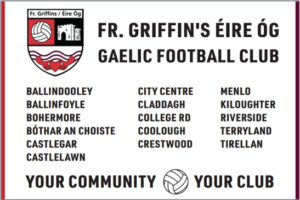 In 2008, two neighbouring Gaelic Football Clubs amalgamated to ensure the long term survival of Football in the north east ward of the City. Fr. Griffin's were founded in 1948 and had much success from the year of their foundation, through to the 70's, winning 7 Senior County Championships. A number of former players have gone on to represent Galway, win All Ireland medals and indeed All-Star awards from the club. Its traditional area was from Tuam Rd through Bohermore/College Rd and on to the Claddagh.
Éire Óg was formed in 1972 to cater for Castlegar, Menlo and Terryland. The club was formed by local men Tom Small and Willie Keane. The club captured County Junior A titles in 1975 and again in 1980 and indeed had one of the strongest underage set ups within the county during the 1980's, 90's and into the 2000's winning multiple County titles in all age groups from under 12 up to the minor grade.
In recent years a resurgence has begun. The club has had its most successful period in years, having won back to back promotions in the league, and in 2018 winning the West Board and County Championships at Junior A level.
We now have two adult teams where the vast majority of players are those who came up through the ranks of underage of our club. Our first team plays in the premier Junior championship grade and in the Intermediate league. We also have a second adult team currently competing at Junior B grade, and in all we have more than fifty adult players.
While at adult level FGEO is thriving, our main aim is to have our underage do likewise in the coming years. Presently we have over one hundred children both boys and girls from the ages of 13 years down to 3 years old. Our underage is split into Peil Pal and Cúl Cubs. In 2022 we will enter an under 13 team into the county championship which is on target to our goal set in 2019. We'll also have a girls team at u14 for the first time. We now have 16 trained up coaches at juvenile level. Our primary base is at Crestwood which is earmarked for extensive development over the coming years.
We are also very fortunate to benefit from the fantastic Ballinfoyle Community & Neighbourhood Centre (BCNC) located on the Headford Road. We intend to continue our Underage Development at the centre in conjunction with Crestwood. The Southpark Claddagh pitch traditional home of the old Fr. Griffin's Club, locally known as the 'Swamp', is also available to the club when required as is The Plots in Woodquay.